I AM SO PROUD. THIS WAS THE BEST COLLEGE BASKETBALL GAME I'VE EVER SEEN:
ATLANTA -- In the emotional locker-room moments Monday after his team lost 82-76 to Louisville in the national championship game, Michigan coach John Beilein had one message for his team: Do not hang your heads.
So the Wolverines held their chins up as they discussed their defeat -- only to show off red-rimmed eyes.
"We're so proud of what we accomplished," junior guard Tim Hardaway Jr. said. "But it hurts to come so close."
[+] Enlarge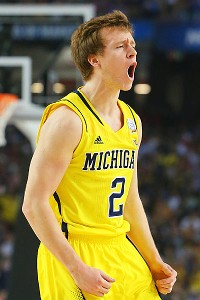 Spike Albrecht rocked the Georgia Dome in the first half Monday.
This young, fourth-seeded team -- whose players now admit they even doubted themselves at times when they finished 5-5 over the last 10 games of the regular season -- performed better than when it held the No. 1 ranking earlier this season. Thanks to an inspired (and inspiring) effort by freshman reserve point guard
Spike Albrecht
(a career-high 17 points), the Wolverines held as much as a 12-point lead in the first half.
And even after Louisville rallied, Wooden Award-winning ball handler
Trey Burke
, back in the game in the second half after early foul trouble, kept trying to push them into position to prevail.
"We knew, in this game, it was going to come down to who played better defense," freshman Glenn Robinson III said. "And in the second half, [Louisville] did."
The turning point came with 5:09 left. Michigan was trailing by three points when Burke made an incredible block on Cardinals point guard
Peyton Siva
... only to be whistled for a foul.
"I thought I had all ball and timed it up pretty good," Burke said. "Unfortunately, you know, it didn't go that way."
Siva made two free throws, beginning a 9-2 run that culminated in a
Luke Hancock
3-pointer. It was too much for Michigan to totally overcome, with Louisville hitting the boards harder (11-1 on offensive rebounds in the second half) and forcing more Wolverines turnovers (seven of 12 came after halftime).
"It could have been momentum," Burke said of the foul that should not have been. "If it was a no-call, we could have gotten possession. We can't go back on that now; Louisville deserved it."
By playing with focus and fearlessness, though, the Wolverines -- who lost three of four in early February, followed by a perplexing defeat at Penn State later in the month -- proved they deserved to be here, too. With the Fab Five members of Michigan's '93 Final Four team cheering from the crowd Monday, they shot 52.1 percent, got 24 points from Burke and made things tough for the Cardinals, whose last loss occurred in early February.
"They are," Louisville coach Rick Pitino said of Michigan, "a great basketball team."
With the potential to be even better.
"This team, with the players we have and the type of relationships we have -- and everything we learned this season -- this team can definitely be back in this [championship game] situation next year," Burke said. "I'm not guaranteeing anything, but with the talent we have, this team is capable of making another run."
[+] Enlarge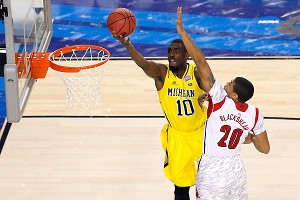 Tim Hardaway Jr. is among the UM players who must soon decide between the NBA or college.
Depending, that is, on who returns.
Burke, Hardaway, Robinson and freshman forward
Mitch McGary
all said they have not decided whether they will leave early for the NBA or return to Michigan next season. With emotions still raw after the loss, they said they would need some time to mull their options.
"We accomplished a lot of things nobody probably thought we would do," Robinson said. "We lost this championship game by a couple of possessions, but we fought until the end."
Beilein said Monday's aftermath marked the most emotional postgame locker room he has ever faced. Several of the starters addressed the team, both thanking and praising the squad for how far it advanced.
There was pride. But there also were tears.
"I think this season was very successful," freshman guard
Nik Stauskas
said. "Three or four weeks ago, I don't think anyone thought we would get to this point. I think everyone was writing us off in the first or second round.
"[Coach] said we shouldn't hang our heads, and he's right."