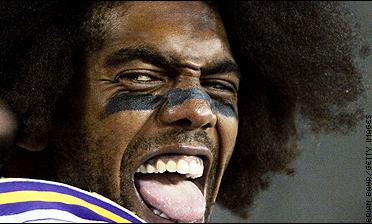 OAKLAND - So on March 2nd, the most controversial, most intrepid, most game-breaking wide receiver in the NFL is going to join the greatness that is the Oakland Raiders. Hell yeah. Screw all of the haters. The Raiders got the better end of the deal, giving up underachieving linebacker Napoleon Harris, the # 7 pick this year's first round of the NFL draft and a late-round pick that is TBA. Truth is, this is a deal that's been seven years in the making.
On draft day 1998, Al Davis and the Raiders selected Heisman Trophy winner Charles Woodson out of Michigan to solidify a corner spot opposite Eric Allen. Woodson was Jon Gruden's first draftee as a head coach. What most don't know is this: Davis coveted Moss and was tempted to pick Moss with the # 4 overall pick instead of Woodson. Cooler heads prevailed, because at that time, Moss was a great unknown compared to Woodson. Davis
desperately
tried to trade back into the top 20 to select Moss, but New England killed a potential deal that would've netted Emperor Davis Woodson
and
Moss in the first round of 1998. Instead, the Raiders ended up with Woodson, Mo Collins and Leon Bender - who died before the season started -
all
in the first round. New England screwed Davis that day, they screwed Davis again on the Corey Dillon trade by offering a higher draft pick to the Bengals, and the refs screwed the entire Raider Nation in England with the infamous "tuck rule."
Davis wasn't going to let Moss get away again. Good for him. Now Davis has prevailed like the champion that he is. His stable now boasts Woodson, Moss and Jerry Porter to boot! The Raiders now own the best passing attack in the league when you consider that Ronald Curry, Doug Gabriel, Teyo Johnson and Courtney Anderson will be secondary and tertiary targets for Kerry Collins. Speculation and this blog says the Raiders won't stand pat. If all goes according to plan, they will pick up running back Lamont Jordan from the Jets. He may make a nice one, two punch with Justin Fargas. But what happens to Ty Wheatley and Amos Zeroe? Who cares, the Raiders got Moss today!
Halleluiah, Raider Nation, halleluiah. Now if only all that money Moss is owed could be restructured so that the silver and black can pick up a pass rushing end/backer and another impact defender that lines up in the box. Rumors say that Derrick Brooks of Tampa Bay will be available. He's not an edge defender, but look what John Lynch did last year ... then again, look what Warren Sapp didn't do last year.
I'll end with this: the Raiders now have tradeable commodities in Gabriel, Johnson, Philip Buchanon and Doug Jolley. Wheatley, "No Play Ray" Buchanan and Sapp are just untradeable at this point. If the Raiders can somehow parlay those commodities into picks that get them back into the first round of this year's draft, they could be in business on the defensive side of the ball. I just hope it doesn't take someone signing C-Wood to an offer sheet to make that happen. Otherwise Davis will be back to the drawing board with trying to have the best WR and best all-around CB in the game on his pimped-out roster.
War Silver and Black. Out.